Meeeeemories!
Friday night at the Monkey, I visited with the boys of Husbands AKA. They mentioned that they were playing a show at 242 Main on Sunday, and seeing as it was their first show back since Dylan's accident (or at least the first I heard of), I promised to attend.
I was still a hardcore girl when I moved to Vermont. Ha! I know, I can barely say that with a straight face myself. I guess, I was still a hardcore girl wannabe? I used to work for an online music magazine and I specialized in interviewing hardcore and metal bands. But I was known to do so while sporting the uniform of Kennebunkport; linen pants and flip flops.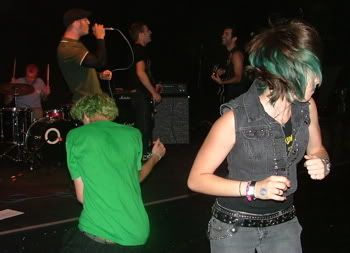 Anyway, the magazine eventually went defunct, I fell out of the scene, and the next thing I knew, it had been almost three years since I attended a show at Burlington's youth-oriented and substance-free venue.
The first time I attended a show at 242, I had driven from Maine to interview Todd from With Honor. Of course by the time I arrived, the show had sold out, and I hadn't bothered to contact the band ahead of time to guarantee entry. Luckily Aaron from BANE recognized both me and my distraught look of "I was supposed to buy a presale ticket for a hardcore show?" and let me help load in.
The last time I attended a show at 242, it was the end of 2005 and I had decided to try and meet some of Burlington's musicians by throwing together a compilation CD to fight AIDS. I distinctly remember my roommate Erin giving me a little shove towards Alex Pond, saying, "That's Alex from From the Ground Up! Go ask them to be on the CD!"
Which I did.
Well, now Alex is in Husbands AKA, along with Tyson Valyou, Chris Valyou, Sean Fitzpatrick, and the ever badass Dylan Burns. And their show at 242 caused me to have a bit of a revelation.
We're all growns up.
The average age of the attendees on Sunday was sixteen. And there were a few kids there that I'm pretty sure I am old enough to have mothered. But "ohmygod ska fans are young" sentiment aside, the show made me realize that the "scene", hardcore, punk, ska or otherwise, is all about the cycle of audience-turned-entertainers.
There comes a point when, should you choose to remain in the same music scene as your youth, your role switches. That doesn't mean that those who leave lose all touch with the music. But your priorities change. And unless you're in a band, or working for a band, or even reviewing a band, you realize that the world won't end if you miss a show.
You might even stop considering it badass to get pushed around with the boys, and instead, grab that fifteen year old punk by the arm and warn him that he better watch it around the ladies as that's no way to impress a girl.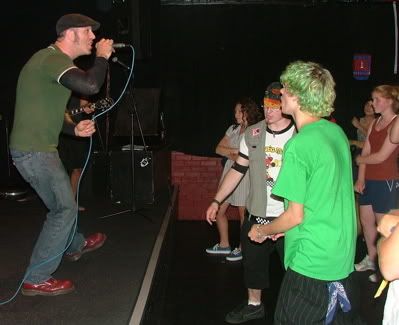 [You MIGHT even turn to your roommate during an episode of A&E's "Intervention" and say, "She would be so much prettier without that thing in her lip!" and then promptly die of mortification when you realize the full weight of what you just said, and how dismissing a piercing in such a manner pretty much merges you directly into your mother.]
I remember interviewing Stretch Arm Strong and asking them about the fact that several members of the band were married. Married! It seemed like such a grown up concept. So unlike anything we kids in the audience had going on in our lives.
Fast forward to this past Sunday and I had to leave the show at 242 early to go get drinks with my friend the bride, and all of my fellow bridesmaids. Because I'm a bridesmaid now. Because that's what you do when you're 25.
I'm having a hard time reaching my point... but I think what I'm trying to say is that seeing the audience at 242, seeing how pumped they were to rock out to the night's bands, and simultaneously remembering how psyched I used to get for a night out with my friends and our band of the moment, gave me a really warm fuzzy feeling inside. Not just that someone else out there is continuing to provide that release that I used to crave so much, but that the people providing it are friends of mine.
Husbands is a really fun band to watch. And they've been known to rock 21+ shows at the Monkey just as hard as they rocked 242. But it makes me really happy that they recognize the importance of the kids at 242, and happily book those shows along with the ones catered to an older crowd. After all, they used to be those kids.
And what better way to say thanks to the bands that helped shape your teenage years than to turn around and provide that same service to the next group of teenagers?